Objectives
The FIR Live Score project came about because of the objective of providing to the press officers of the Eccellenza teams, the highest italian rugby league, a content publishing platform through which the official mobile application users  can be informed in real time about match results.


The aim is to satisfy two specific requirements:
one of the team leaders, who needs to have a unique tool for managing results and contents day by day;
the other of users, who can follow the results of their favorite team in every place thanks to the integration of Live Scores within official app FIR.
The project falls within the logic of expansion of services offered to users through the app, which already provides news, results, standings and calendars of Italian championships and the National teams sections (Male, Female and Under20).
Approach
A study phase and a preliminary analysis, with the valuable support of the press officers of Eccellenza teams involved in the testing phase, has enabled us to structure the project the best. This has ensured a faster time to market, since the beginning of the championships set for October 1.

The relationship, strengthened by more than a year of experience with the mobile app, has enabled us to understand the real needs of the FIR team: so we identified the features and information needed by the client, as well as the core elements on which to focus during backend and frontend design.
Execution
This allowed us to structure the work through functional blocks, creating incremental micro-releases and testing each part of the application.

A so fast time to market was also possible thanks to the organization of the development team, who worked in parallel on delivering different features that were then integrated with each other in the next step.

The real-time update system of results and actions has been structured on a routine that updates the application on the basis of the data entry made through the control panel.

By analyzing the user experience and the types of users of the application, also we structured the Live Score tabs to avoid the User information overlap. For this reason, actions and comments are displayed on their specific tab so that those who want only to follow the action is not disturbed by the comments and vice versa.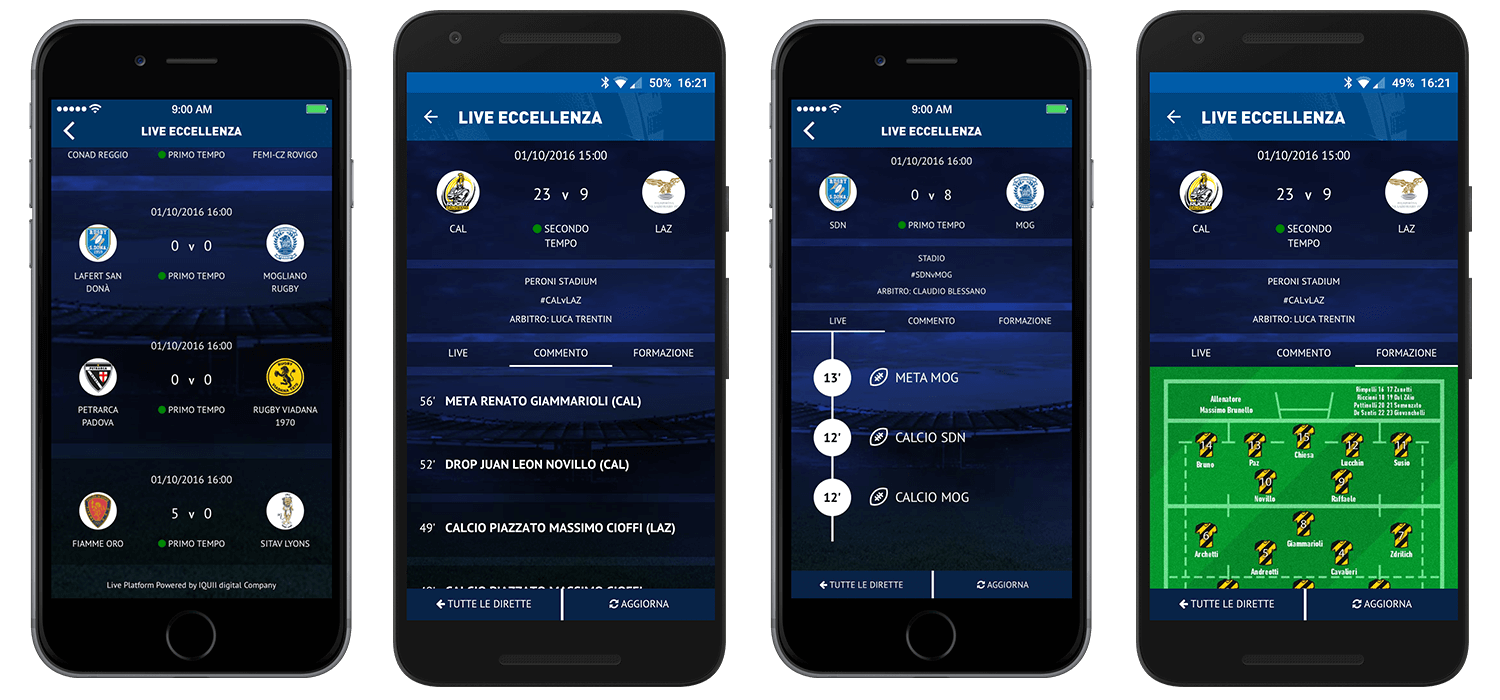 Result
The platform allows a textual live coverage of the league matches in real time, ensuring timely updates and the creation of statistics and social objects for sharing infographics dedicated to the matches played day after day. In fact it provides to the press officers the opportunity to have an all-in-one platform for the data entry and the content production in real time.

Thanks to the integration of the Live Score in the official app, the Italian Rugby Federation has taken another step forward the attention to the needs of rugby fans by giving them an additional point of contact and of update on the world of rugby.