Objectives
Pirola Pennuto Zei & Associates was founded in the early eighties as a professional tax and legal advice association. The organization benefits from the experience and professionalism of more than 500 professionals, integrating technical and specialist expertise, providing a wide range of services in fiscal regulations, corporate and legal, both nationally and internationally.

The firm supports – especially in the Financial and Legal fields – important Italian capital companies, subsidiaries of foreign groups, top-executives and multinationals, with a total of about 3,500 businesses. To better meet the needs of its clients, the firm has gradually opened up to international markets, expanding its presence in Europe and in China, now with 12 offices, 9 of which are in Italy and 3 abroad (London, Beijing , Shanghai).

Driven by the desire to modernize their communication structures and to adapt to technological changes, Pirola Pennuto Zei & Associates decided to approach us with two objectives: corporate site redesign and consolidation of social media presence.
Approach
Following a thorough analysis of their identity, we decided to implement a redesign of the Pirola Pennuto Zei & Associates website, a well designed and targeted restyling that provides the brand with a structurally new platform but at the same time remains in line with company values.

Parallel to the website restyling, the client entrusted us with the management of social channels with the aim of strengthening and consolidating the presence of the Pirola brand through a strategy of social media management that will enhance brand awareness of the Firm.
Execution
First we performed an extensive analysis of the brand, its history, its values, its current structure and its positioning on the web and on social channels.

We then defined the strengths and weaknesses and identified their main competitors by concentrating our analytical focus on their regional, social and website presence. Following an accurate study that focused on design, ergonomics and information architecture we performed a graphic restyling of the Pirola Pennuto Zei & Associates website. The key elements on which we worked were simplicity, functionality and an innovative and mobile-driven aspect that would befit the user experience (UX), ergonomics and brand values.

The new responsive site is fully integrated with the official social profiles on LinkedIn, Twitter and Facebook, channels now managed by a strategic and regular publishing schedule.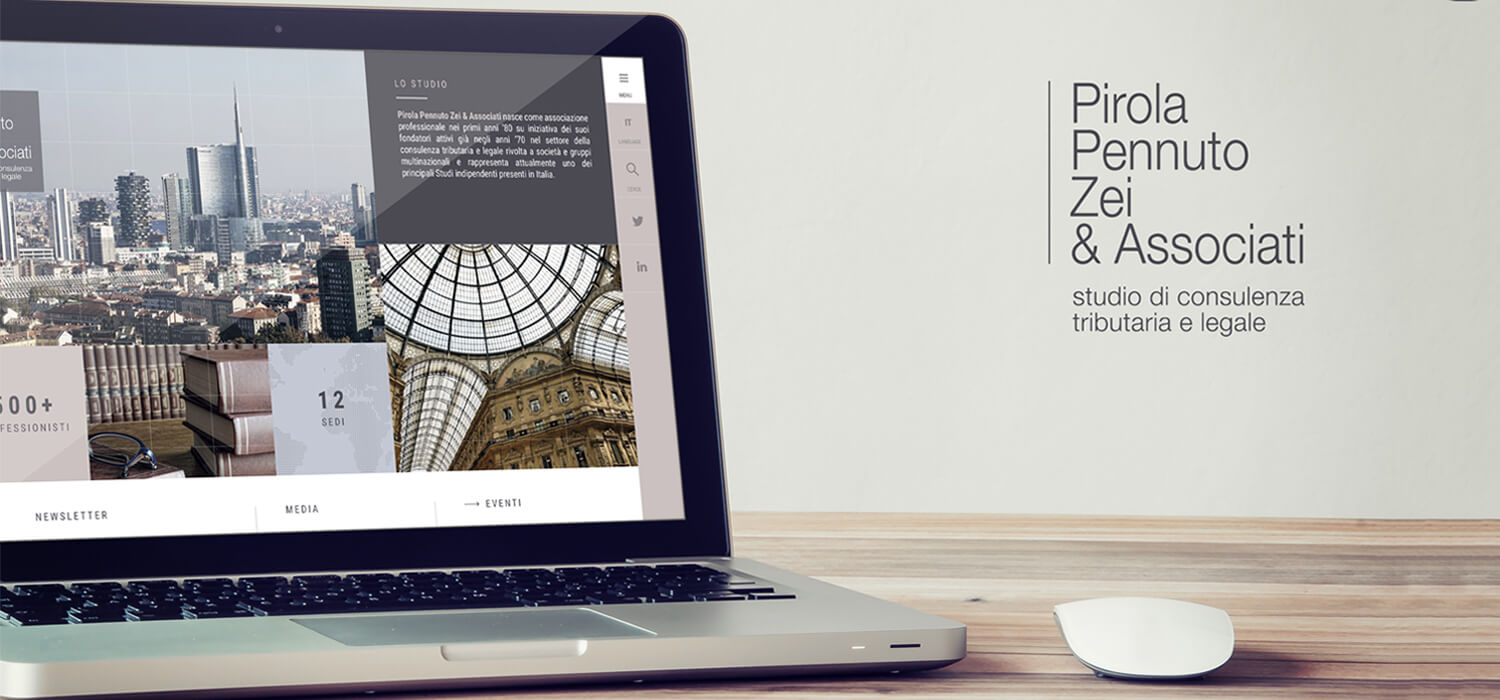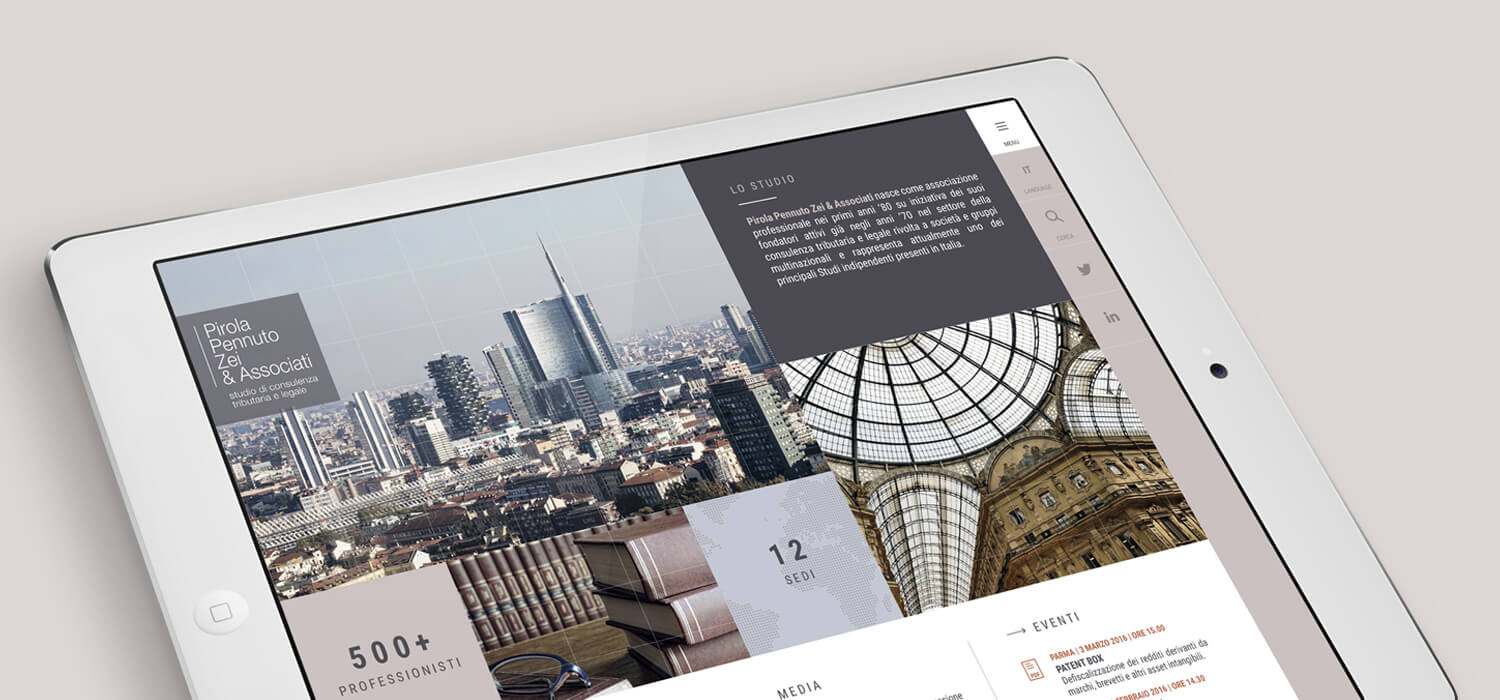 Result
We created a website with a modern and dynamic design by developing a more appealing and intuitive homepage, with a functional navigational side menu, mobile-driven and with a focus on the ergonomics of the revamped site.

We then redesigned the Firm and Areas of Activity sections and restructured the Professionals section making the contact information more immediate, placing more relevance on biographies and quality photographs with smiling faces, which adds value to every studio resource by showing the human side of the brand.

Marking the beginning of a larger process of the transformation of corporate communications both online and offline, this new digital structure with the website at its center, social media channels manned daily and more effective and up to date communication, instils in the brand a new sense of innovation.